IRRIGATION & PUMP SYSTEMS
Commercial & Residential
Design, Installation & Service
Permits & Inspections
Valve Replacement
Back Flow Certifications
Emergency Service
Tune Up
Replacement
Sprinkler Heads
Automate Manual Systems
Wiring and Electrical Troubleshooting
Pump Installation, Service & Repair
IRRIGATION DESIGN & INSTALLATION
Save yourself time, money and energy with a custom designed irrigation system from Ronnie Kenyon Sprinkler & Landscape. We are fully licensed, bonded and insured so you have the peace of mind knowing that you are protected and are being serviced by professionals. Our expert team will design and install the perfect irrigation system for the best results in the Texas climate to produce a healthy lawn. As the seasons change, the amount of water needed to properly irrigate your lawn fluctuates. Our dedicated crews can make adjustments throughout the year to ensure a healthy and vibrant lawn.
Our specialist work closely with our customers to ensure they receive a high-quality product and fully understand how to operate and adjust the irrigation system. We use only the best parts and equipment from Hunter irrigation systems. Our irrigation systems are built to last, installed with expert craftsmanship ensuring a perfectly functioning irrigation system for years to come.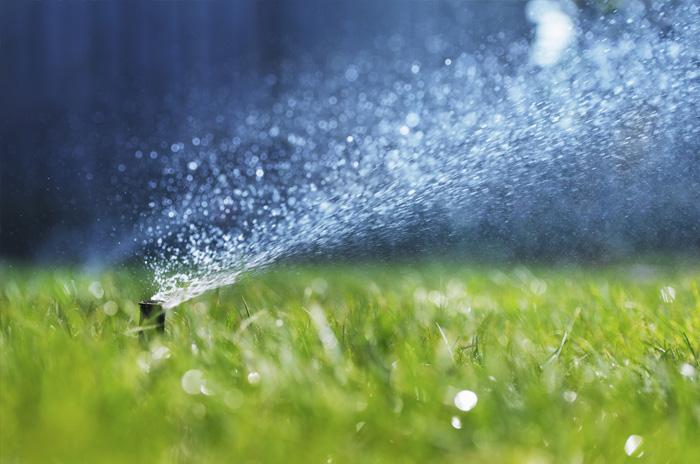 COMMERCIAL IRRIGATION
Ronnie Kenyon Sprinkler & Landscape is your irrigation specialist for new and existing commercial properties. Our experts will come and design a detailed plan to ensure the proper layout and type of system that is best for your landscape. Not only will proper irrigation control the moisture and health of your grass, but it can also save your business time and money. Contact us today for a free estimate!
IRRIGATION REPAIR & MAINTENANCE
There are many reasons that require an irrigation system to be inspected for repair and maintenance. Over time, parts throughout the system begin to wear and loosen. From leaking sprinkler heads, yard flooding and major breakdowns, our crew has the experience, parts and equipment to repair all brands and models of irrigation systems. Some common irrigation problems that require repair are broken sprinkler heads, valves, controllers, adjustments and more. The best way to prevent damaged systems and repair is to enroll in our irrigation maintenance programs. We have several program options that meet a variety of needs and budgets. Our full-service package includes Spring start up, winterization, head inspections, water adjustments, watering time adjustments, drip pipe inspection and overall system function.